What's my interest in Digital Citizenship?
My last book was Digital Community, Digital Citizen, in which I tried to capture my thirty years of involvement in the area of inquiry we now refer to as "digital citizenship."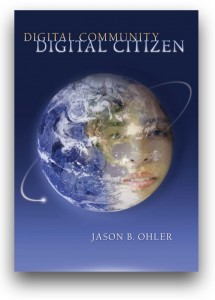 In fact, digital citizenship has had an interesting history and has gone by different names in the past. I have been teaching some version of what I call "the social impacts of technology" ever since I helped to create the Master's of Educational Technology at the University of Alaska in the mid-1980s. From my earliest days in this exciting field I wanted teachers to place the digital revolution in some kind of broader social context. I wanted teachers and students to use technology not only effectively and creatively, but also responsibly and wisely. I wanted them to see technology on balance, and understand that every technology provides connections while causing disconnections. As leaders in the field, my students needed to understand how this happened and how to help others understand this as well.
From ISTE v1 to the refresh standards. The original ISTE standards that appeared in the early 2000′s referred to our interest in the human side of technology as "Social, Ethical, Legal, and Human issues," and defined it further by saying "Teachers (need to) understand the social, ethical, legal, and human issues surrounding the use of technology in PK-12 schools and apply those principles in practice." Around the end of the decade, ISTE "refreshed" its standards, and this area of inquiry was renamed "digital citizenship." The teacher standard in this area now reads: "Promote and Model Digital Citizenship and Responsibility." It is further defined in the following manner: "(It is important that) Teachers understand local and global societal issues and responsibilities in an evolving digital culture and exhibit legal and ethical behavior in their professional practices."
Personally, I think placing so much emphasis on networked culture misses some key components of the earlier version of the ISTE standards. The earlier focus was and still is very important. So, I have adopted both sets, while focusing on the more current Digital Citizenship standard.
New words appear in the refresh standards, including digital, citizenship, culture, and global. (Two other new words figure prominently in the first standard: creativity and innovation, a topic I cover at some length in another book of mine, Digital Storytelling in the Classroom.) I was prepared for this. I conducted one of the earliest studies of an online educational community, and helped develop very early online courses and programs that used nothing other and slow email and conventional postal mail. I have been at it ever since. As a "cyber anthropologist" I was always observing networked behavior. Our interest in digital citizenship is a natural extension of living in a globally networked culture.
Digital citizenship is vast. Digital citizenship is now a core standard in all of ISTE's sets of standards (students, teachers, administrators, coaches), and constitutes an immense area of interest for schools and communities. In my thirty+ years in educational technology I have never seen an area of interest grow so rapidly in so many directions. The result is that educators are a bit overwhelmed by the resources, foci, activities, and opportunities that digital citizenship represents. It is the intention of this course to help students get started navigating a pathway through its many issues and resources so that they can use what they learn effectively and creatively, as well as wisely and responsibly. Most important to me is that as students learn how to manage technology and their cyber lives responsibly, that they not lose the sense of creativity and opportunity that a digital lifestyle inspires.
Current bio

My portfolio is available on the web. What follows is a bio submitted recently for an ISTE conference spotlight to be delivered at the Atlanta conference, and a keynote for the New Media Consortium Conference in Portland, both to be delivered in June, 2014.
Bio, Fall 2013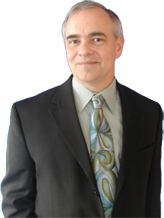 Dr. Jason Ohler has been pioneering the future of technology and learning for over three decades. After he helped develop one of the earliest masters degrees of educational technology for classroom teachers in the early 1980s, he went on to direct it for 17 years, bringing together emerging technologies and creative learning processes focused on learner centered education.
Since that time, he has keynoted and worked both online and in schools, at home and internationally, helping students and policy makers develop the new media literacies and perspectives they need to create the futures they want. He is a passionate promoter of "Art the Next R" as well as of the need for students to learn how to use technology wisely and safely, as digital citizens with awareness and compassion. He has won numerous awards for his work and is author of many books, articles, and online resources. More at jasonOhler.com
His current book, Digital Community, Digital Citizen, explores the issues of helping our students and ourselves blend our digital and non-digital lives into one integrated, inspired approach to living. His previous book, Digital Storytelling in the Classroom, reminds us that he is first and foremost a storyteller, telling tales of the future that are grounded in the past. Many call him a futurist, but he prefers to be called a nowist, believing we have the vision, technology and mandate to create the communities of learning we need today.
"The goal is the effective, creative, and wise use of technology . . . to bring together technology, community, and learning in ways that work. And while we are at it, to have fun."
Citations, credits
Book Cover, Digital Community, Digital Citizen. Ohler, J. 2011. Thousand Oaks, CA: Corwin Press.
World, in header [Photoshop created image]. (2011). Created by Larry Addington for Corwin Press. It is a modified version of the cover of my book Digital Community, Digital Citizen. Thousand Oaks, CA: Corwin Press.