Part I: The Big Picture
Week 4
This course is in three parts:
Part I. The Big Picture – A history and overview of digital citizenship; how to approach digital citizenship from a policy perspective
Part II. Tools, Skills and Resources of Digital Citizenship – Theoretical and practical tools to help educators develop tools and approaches to address digital citizenship issues with students, schools, and districts
Part III. Topics in Digital Citizenship – Of the many issues associated with digital citizenship, we have time to consider two: cyberbullying, media literacy
This week addresses the third topic of Part I: Digital Footprints, and Digital Citizenship Beyond School.


Part I, Topic 3: Digital Footprints, Digital Citizenship Beyond School
Essential questions:
What issues – both positive and negative – are associated with digital footprints and living public lives on the Internet? How does the private sector view the importance of digital citizenship? What is the relationship between digital footprints and big data?
Other questions to consider:
How do we create digital footprints?
How can we manage our digital footprints?
How can we create deliberate, positive digital footprints?
What role does social media play in the development of digital footprints?
How do our digital footprints feed "big data?"
Goals, objectives, understandings:
To identify and explore the concept and reality of digital footprints, including the differences between intentional and unintentional digital footprints.
To explore methods students can use to deliberately cultivate their digital footprints, including what they would like to include in their public ePortfolios.
To explore issues like age-appropriateness, privacy and safety in terms of students creating online presences. (Watch the video Digital footprint student activity for some inspiration.)
To develop an understanding of how colleges, business and the public view how we present ourselves online.
To develop an understanding of the relationship between digital footprints and "big data," and how big data creates opportunity and privacy concerns.
Narrative
This week we will address a few related topics: digital footprints, the public's perception of us based on our digital footprints, and how digital footprints feed "big data," and the privacy issues that result from the big data industry. For the industry perspective, we will hear from Dr. Pam Lloyd, director of Educational Services for GCI Telecommunications.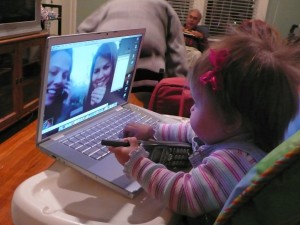 We will watch the video she created about why it is important to industry to hire employees with digital citizenship skills. For now, let's look at digital footprints.
Digital Footprints
What we do online follows us outside and beyond school. This is not news to most. But while we seem to understand this theoretically, we often don't fully appreciate it in practical terms. Search for yourself. Most people who do are surprised at what they find. And then there is a problematic business about what other people post about you. You may be tagged in a photo, taken by someone who saw you at a party in a questionable pose, which is now on someone else's Facebook page but searchable as part of the Internet. There is little you can do to control these eventualities. This is the new normal.
All of us maintain online portfolios, (or scrapbooks or tattoos, depending on your point of view) which comprise the public face we show to the world via the infosphere. Some of these efforts are intentional, such as developing a webpage or ePortfolio.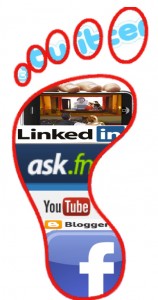 Others are simply the result of our unconscious involvement online as we as engage in commerce, education, social media and a number of other activities.
The result is that it is impossible to hide on the web these days. This fact has forced all of us to engage in identity management on the Internet.
The closest thing to prevailing in this environment is to ensure our most prominent work on the web is also our best work. It is routine at this point for employers and universities to check the web for the e-presence of potential candidates. We want to make sure that what they see is what we want them to see (Ohler).
In fact, we want to embrace being searchable by putting our best digital footprints forward. We will continue this discussion below when I introduce the reading and viewing materials required for this week.


Readings/viewings for this week
As discussed earlier, digital footprints are problematic because we have put such a negative spin on them. They are often presented in terms of what we shouldn't post about ourselves.
ISTE Educator
standards addressed: 2, 3
There is no question that this is an important part of maintaining a digital presence. To solidify this, watch the following videos, and feel free to suggest others in our Google+ Community discussion:
Digital Dossier, by youthandmedia.org. I find this video particularly effective because it is youth speaking to youth, which, my years as an educator tell me, is much more effective than adults preaching to youth.
Your Digital Footprint May be Unflattering. This short, NBC affiliate news story conducts a real life search for graduating seniors who are concerned about their online presences. The results are rather amazing.
Look at/scan these activities, resources and lesson plans:
If you want to delve deeper into digital footprints, and who has access to your information, consider these resources:
Your Digital Trail by PBS
Four Reasons To Care About Your Digital Footprint. I like this YouTube video because it explores how your digital footprint is tracked for commercial, criminal and political reasons.
Creating a good digital footprint. These videos cover the scary end. And bear in mind that they are just a few of the many videos about how to avoid a negative digital footprint. But if this is our primary focus then we lose sight of the opportunity digital footprints represent because all we are considering is the downside.
The reality is that if we can't hide, then we have been presented with an amazing opportunity. I present this opportunity to educators, students and parents in the following way:
What do we want to show the world?" This compels us to ask: "Who, and what kind of person, do we want to be?" This presents a tremendous learning opportunity for students to imagine their future selves.
What does a positive digital footprint look like? But how about the positive end of having a digital footprint? How do we take advantage of the fact that the world will see us, wherever we go and whoever we become? To me, here are the basics.
We can't hide anymore. Even if we drove our four wheel drive vehicles deep into the wilderness, set up camp, and got off the grid, people would still blog, tweet, and Facebook about us.
Therefore, we want students to create deliberate digital footprints. We want students to create a digital presence that represents themselves as their best selves.
We want to seize the teachable moment. Teachers know that when students publish for an audience- rather than just produce homework for their teachers – their internal sense of expectation rises. If students need to present their best selves, then let's help them by having conversations about who and what kind of person they want to be.
Students: start collecting your best work at an early age for web presentation. "Best work" is not just school work, but also news clippings about sporting events, work in the community, playing in a band, hiking, poetry your write in your spare time – whatever you do.
Teachers: my guess is that every semester your students produce at least one piece of exemplary work. Save these.
Administrators and school boards: Support these efforts however you can.
Parents: become part of the process by helping to save your children's work, as well as documenting things your children do outside school.
When should students go live with their ePortfolios for the world to see? This is a great question. There are understandable issues around identifying students fully, as well as around maintaining their privacy. My experience tells me that this is a decision that needs to made with parental, school and community input. I have also learned that different people feel very differently about this.
There are laws on the books that might impact what a student can post. Two are mentioned below, FERPA and CIPA. Please note that these are subject to interpretation.
1. Family Educational Rights and Privacy Act (FERPA). What follows is a description from the US DOE's site:
The Family Educational Rights and Privacy Act (FERPA) (20 U.S.C. § 1232g; 34 CFR Part 99) is a Federal law that protects the privacy of student education records. The law applies to all schools that receive funds under an applicable program of the U.S. Department of Education.
You can read the rest of article of the article here.
Some feel this has been misinterpreted to mean students should not use social media in school. For more about this perspective, read FERPA and Social Media, by John Orlando.
2. Children's Internet Protection Act (CIPA)
This description comes from Wikipedia:
The Children's Internet Protection Act (CIPA) requires that K-12 schools and libraries in the United States use Internet filters and implement other measures to protect children from harmful online content as a condition for the receipt of certain federal funding. It was signed into law on December 21, 2000 and was found to be constitutional by the United States Supreme Court on June 23, 2003…Thus, under this legislation, all Internet access must be filtered for minors and adults, though the filtering requirements can be more restrictive for minors than for adults. The following content must be filtered or blocked:

Obscene (for definition, see the case of Miller v. California 1973)
Child Pornography (for definition, see 18 U.S.C. 2256)
Harmful to Minors (for definition, see below)
You can read the rest of the article here.
Other FERPA and CIPA Links
The following links are recommended by this week's guest, Dr. Pam LLoyd:

How commerce views the importance of digital citizenship and digital footprints
In terms of how the world outside school considers these issues, we will hear from Dr. Pam Lloyd:
Watch the video created by Dr. Pam Lloyd, GCI Education Specialist, URL TBA, about how business views the importance of digital citizenship
Find our discussion for this week at the Google+ Community. Look for my lead post for the week, which will always be a restatement of the week's essential question. Please post at least one substantive posting about this week's material, as well as at least three responses to colleagues' postings. Please always address this question as well: How can you apply what you learned this week to your professional practice?
ePortfolio postings: By Sunday, post a 1-2 page synthesis of your major understanding from the week's materials and discussion. Please use the following format:
Thesis (main point)
Development (discussion and support for your major point, referring to the week's materials, as well as other sources and your own experience)
Conclusion (wrap up of your discussion, and call for further study)
Add resources to your ePortfolio: As always, add resources you have discovered this week (or remembered from previous activities) to your ePortfolio. The goal is to build your ePortfolio into an online professional resource site you can use and build on in the future.
Citations, credits
Barrett, H. TEDex presentation. URL: http://www.youtube.com/watch?v=ckcSegrwjkA, watched 1/3/2014.
Child, video conferencing. Retrieved: http://www.flickr.com/photos/chippenziedeutch/2036640878/sizes/l/in/photostream/. Photo by Chip Harlan. CC License: Attribution-ShareAlike 2.0 Generic (CC BY-SA 2.0)
Orlando, J. FERPA and Social Media. 2/7/2011, retrieved 2/4/2014, http://www.facultyfocus.com/articles/teaching-with-technology-articles/ferpa-and-social-media/
Digital Footprint collage is comprised of well known social media logos for the purposes of social commentary.
Ohler, J. 2013. Digital Storytelling in the Classroom. Thousand Oaks, CA: Corwin Press.
World, in header [Photoshop created image]. (2011). Created by Larry Addington for Corwin Press. It is a modified version of the cover of my book Digital Community, Digital Citizen. Thousand Oaks, CA: Corwin Press.