Project evaluation, recent highlights
Alaska Learning Network (AKLN), 2011-2012. Evaluation of the efforts of AKLN, a coalition of Alaskan School Districts formed to address the challenges involved in providing academic opportunities to students throughout Alaska, particularly students in rural Alaska, using distance delivery systems. Evaluation is on-going.
Consortium for Digital Learning (CDL), 2009-2011. Assessment of the CDL program, a 1-to-1 laptop initiative involving over 12,000 students, directed by the Alaska Association of School Boards. The evaluation report is available to the public.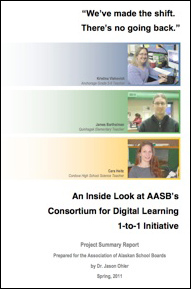 WaveVII, Sitka School District, 2010. Evaluation of WaveVII, an Enhancing Education Through Technology (E2T2) grant focused on helping students and teachers achieve proficiency in technology literacy and skills involved inintegrating technology into the curriculum.
Standards Through Assessment and Technology (STAT), 2008. Evaluation of the impacts of the STAT project, directed by the Alaska State Dept. of Education and Early Childhood Development. STAT involved providing technology and professional development to teachers and technology coordinators in several communities in Alaska.
Graduate student projects, 1985-present day. Evaluation of many hundreds of student classroom, community and research projects at the graduate level, largely in the fields of educational technology, online learning, and cyber culture.

Research, outreach, selected recent projects
Attracting Minorities to Geosciences Through Involved Digital Story Telling (AMIDST), 2008-2009. A project funded by the Geoscience Directorate of the National Science Foundation through their program entitled Opportunities for Enhancing Diversity in Geosciences. AMIDST involved elementary and middle school students in the development of media projects about climate and environmental change.
Mental health recovery through digital storytelling, 2006-ongoing. Using digital storytelling, media development with clients to facilitate recovery at two Alaska rehabilitation facilities.
Stories of Culture and Place.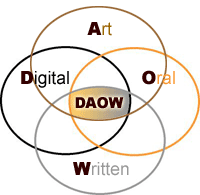 Stories of Culture and Place helps students research, create, illustrate and perform original stories about their cultures and the places in which they live. It uses a cross-curricular, project-based approach to learning that addresses a number of content and skill areas simultaneously. Students develop digital, art, oral and written literacy skills (pictured here as the DAOW of literacy). They research geography, local history and cultural values so they can apply their research results to the creation of an original story. They learn project planning skills that are transferable to other activities. They create original artwork to support their stories. They learn about using computers and other digital technologies to help tell their stories. And they develop the self-confidence and social skills that comes with giving voice to their stories.
Stories of Culture and Place activities include:
Working directly with students and teachers in classrooms
Working with mental health clients as a way to help them "tell their stories"
Creation and distribution of professional development materials
Providing training for teachers, community members, and organization leaders
Stories of Culture and Place has traveled throughout the U.S., and has been featured through projects and workshops in Canada, Ireland, the United Kingdom and Ireland. Experience with this program formed the research foundations for Jason's new book, Digital Storytelling in the Classroom: New Media Pathways to Literacy, Learning and Creativity. The following resources are available about Stories of Culture and Place, as well as the techniques used in the program:
Questions about any of the material you find here are always welcome. Please feel free to contact jasonOhler.com.