Civic commitment
Overview of activities
Jason "thinks globally and acts locally," and greatly enjoys his work within his community.
For his public involvement he has received many awards, including:

The Distinguished Career Citation from the Alaska State Legislature

The Excellence in Education Award from his local school district for his work with teachers (Juneau School District)

The President's Award from Alaska Society for Technology in Education, which is Alaska's International Society of Technology and Education (ISTE) affiliate
Involvement, community contributions
Jason has lead and been part of many research and program initiatives in education and public policy aimed at helping kids, teachers and citizens use technology "effectively, creatively and wisely." His involvement covers a wide range of areas, including e-learning, empowering kids and teachers academically and artistically through technology, building learning communities through networking, community development, educational technology planning, digital storytelling, and telecommunications and technology planning. Some focal points of his civic work include:

Alaska Native Community. Providing workshops, training in the art and technique of documentary development and digital storytelling to express Native values, tell Native stories, capture community perspective.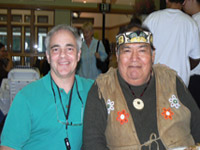 Mental rehabilitation through digital storytelling. Providing workshops, intensives aimed at helping counselors and clients advance and deeped the healingl process through the use of digital storytelling, new media narrative development.

Policy, committee work. Serving on countless committees locally and Alaska-wide, to help develop organizations, policies, programs dedicated to serving education and the public interest in the areas of educational technology; distance learning and cyber communities; culturally conscious technology implementation, and standards development.

Volunteering in local schools. Volunteering in many capacities, including Artist in the Schools (as a digital music artist), teaching digital storytelling in cooperation with classroom teachers, assessing K-12 student portfolios and many other activities.
For a more complete listing of activites in this area, see Portfolio.