Augmented Reality art (ARt) - a new art form arrives
Augmented Reality art (ARt) is artwork that combines what is on the gallery wall with what comes down from the cloud as you view it through your iPad (or other mobile screen). I see the potential for a new art form, as well as a tool that can be used in incredible ways across all content areas, from art to science to health.
I did an ARt gallery installation for K-12 ARtists at the Alaska Society for Technology in Education conference, February 2013. I produced two videos about it:

ARt in about a minute. You get the idea in 59 seconds.

The ARt Gallery. This is a 7 minute movie about the ARt gallery installation that shows a lot of student work, and explains how ARt works.
Future ARt installations

ISTE 2013. Bernajean Porter and I will have a small installation at ISTE as a kind of proof of concept project.

NAEA. The NAEA (National Art Education Association) will feature an ARt installation by Bernajean and I at its 2014 conference.

The Conference Artist in Residence Program
This year's ARt installation is part of ASTE's Conference Artist in Residence Program. Here is some history.
In 2012. In 2012, the Alaska Society for Technology in Education (ASTE) began the Conference Artist in Residence Program. ASTE hired electronic music artist Craig Harris to work with students, myself and his wife Candy Kuhn (a digital photography artist) to create an artistic persp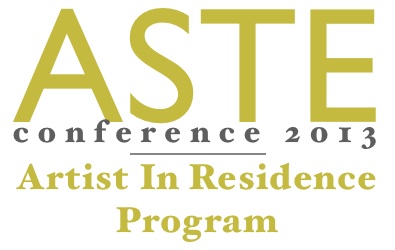 ective of the conference. The result was It's About, a 12 minute collage of interviews, video, archival material, electronic music and other media. It was very well received and set the standard for future projects. You can see It's About on YouTube.
In 2013. This year ASTE continued the Conference Artist in Residence Program with the installation of The Augmented Reality art (ARt) gallery. It featured artwork created by K12 students from Alaska as well as from around the world.

Augmented Reality (AR) consists of triggers and overlays
Basically, AR works like this. You define a visual image as your trigger. This could be be any visually distinct object in RL (Real Life)- a phone, a sign, a painting on the wall... just about anything. Using AR software, in our case Aurasma, when your iPad sees the object it then calls up (triggers) something else to appear on your screen, called an overlay. You are now looking at the RL object, and the overlay, which blend together to create an augmented reality.
What an augmented reality (AR) art gallery looks like
Here are just three ways that AR could be used in the development of a virtual art gallery...
1. A title triggers the artwork to appear. Imagine wandering around the conference hotel and coming upon a blank spot on a wall that is identifed by nothing more than the kind of name plate you would see accompanying a painting in an art gallery. But when you view the nameplate using your iPad (iPhone, whatever), up comes an overlay of the student artwork on your screen, which appears with the title. The artwork can be a video, a scanned painting or photographed statue, a 3D sculpture with accompanying music...just about anything. Watch this example (14 seconds).
2. The artwork triggers a video interview with the artist. Or, perhaps the artwork is hanging on the wall. When you view it through your iPad there appears a video of the artist explaining the process used to create the artwork. Watch this example (27 seconds).
3. Part of the artwork triggers an overlay of the rest of the artwork, to complete the piece. Or perhaps you happen upon a piece of artwork that looks...unfinished. As you are looking at it through your iPad, the rest of it is downloaded to your screen. You are now looking at a true mixed methods piece of artwork, consisting of what exists in RL (Real Life) and what the artist has added to it. The artwork is not finished until both parts are present. Watch this example (12 seconds).
Watch the intro videos
I have prepared three very low budget, quick and dirty videos that explain the project:

Making an Augmented Reality project with Aurasma software- this is the augmented reality software we used for the ARt gallery project. I go through the process, step by step, of how to create a basic AR project (3 minutes, 21 s).

Augmented Reality Art Gallery - An Overview of Possibilties for ASTE 2013- some ideas about how to use AR software to create ARt (2 minutes, 37s).

We are just scratching the surface. McLuhan said that when we create new media forms, we tend to fill them with the content of older media forms. So, we create something called movies, and then use them to tell stories that we told using books, or oral storytelling. Then, as the creative process evolves, we realize that the new media can actually facilitate new content, and let us imagine new ways to make media, create art, tell stories and be creative.
Right now ARt is in its earliest phases, and is adapting old content to new meida. But I expect in the near future we will see what we recognize as ARt that is truly unique to the medium. This is an exciting time to be an artist. A great example of where ARt is headed is the Summer Show Demo of Augmented Reality Art Powered by Aurasma.
If you want so see some good examples of how augmented reality AR projects, go to the Aurasma site. And if you really get bitten by the AR bug, simply go to YouTube or Google and search for augmented reality. AR is taking off in many directions.
Works referenced - Attribution 2.0 Generic (CC BY 2.0)
Skater by Andrea Arden.
MOMA Augmented Reality Exhibit, 10/9/2010.
If you are interested in contributing to an ARt project contact me at jasonohler@gmail.com.